Multifunctional mixing system helps extend commercial success at Harpoon Brewery
High-quality beer choices available to enthusiastic consumers
DATE
2023-11-28
Harpoon Brewery is an American craft brewery with roots in a driven passion for beer, along with a determination to make more high-quality beer choices available to the enthusiastic
consumer. Harpoon was started in 1986 on the Boston waterfront – the first brewery to commercially brew and bottle beer in Boston in more than a quarter of a century.
Harpoon puts a lot of energy into developing a wide range of tastes and styles, including limited-batch specialty beers, seasonal brews and innovative beers. One notable example is Imperial Pumpkin, a decidedly unconventional stout brewed with pumpkin, nutmeg and cinnamon.
The Harpoon Brewery engineers decided to install the Alfa Laval Iso-Mix system, based on the revolutionary Alfa Laval Rotary Jet Mixer technology, in all the new bright beer tanks.
The Iso-Mix system enables Harpoon Brewery to introduce the required amounts of both water and CO2 very quickly and with accurately set specifications, thereby ensuring beer
of consistently high quality. The same technique is used for adding the spices and natural fruit flavours so important in many Harpoon products.
Products
Rotary Jet Mixer
Fastest and most efficient mixing results
Based on rotary jet head technology
Reduces capital expenditures and operating expenses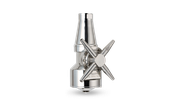 Customer's voice
The Iso-Mix system provides us with a fast, consistent way of adjusting CO2 content and gravity as well as making other additions that ensure less manual labour and
reduced risk of delays in our packaging operations.

Al Marzi

Vice-president and Chief Brewing Officer of Harpoon Brewery